Wichita, KS
Production Center
This 75,000 square foot facility is where much of our interior finish work is completed and our blast-resistant modular buildings are readied for shipping. On this worksite, RedGuard technicians complete HVAC work, paint or sandblast modules, rough-in plumbing and electrical, and install furniture. The offices at this location are home to our project management, estimating, and engineering and design teams. The ISO 9001 certified site also includes outdoor areas for laying out builds that are too large to layout indoors, in our expansive, covered shop.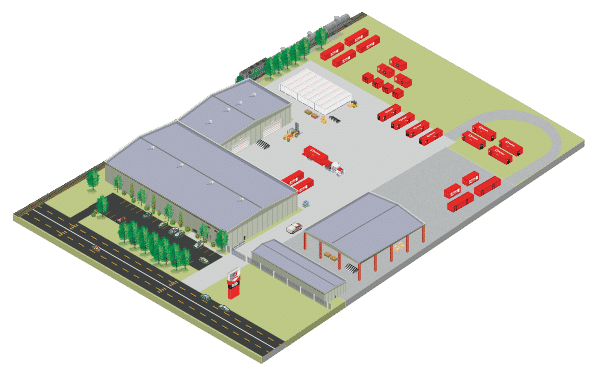 [ppwp pwd_label="virtualtour" passwords="access" headline="Virtual Tour" label="" description="" placeholder="Input Provided Code" button="Send" error_msg="Incorrect Code" id="virtualtour-password" loading="Sending"] [/ppwp]
This virtual tour will walk you through the areas of our facility that you would see in an onsite tour.
Use the navigation in the bottom left corner to change perspective, or to autoplay the tour.
Or, to navigate manually, click on the circles on the floor to move about.
Click the red and white target signs to watch videos.
Certifications
ISO 9001 : 2015
Electrical
EMT, IMC, rigid conduit, panduit, wiremold methods
Classified locations
Gas detection systems
Master's and Journeyman's license
HVAC
Wall mount, pad mount, roof mount, mini-split systems, exhaust systems
Classified locations
Journeyman's license
Plumbing
Pex, copper, PVC, cast iron, acid pipe
Lab areas/acid waste
Master's license
Capabilities
Insulation
Rock Wool (R-Value based on application)
Poly Iso/Mule Hide (R-Value 6.5/inch)
Blow In/JM Climate Pro (R-Value 11 to 70)
Spray Foam/JM Cor Bond 3 (R-Value 7/inch)
Flooring
OSB
Apitong
Coosa
Epoxy
VCT tile, porcelain & ceramic tile, sticky-back tile