Make an Informed Decision about Blast Resistant Buildings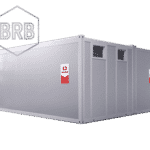 When your needs for safe structures are complex, RedGuard has a premier line of fully customized blast-resistant structures. These provide the peace of mind and uncompromised comfort necessary to get the job done. Backed by the industry's only successfully tested, blast-resistant design and virtually unlimited manufacturing capabilities, a SafetySuite BRB is a durable, comfortable and reliable environment, unrivaled by the competition.
Blast protection
from the leaders in safe space
We Are RedGuard
Mission and Culture Video
Be a part of Our Team
At RedGuard, we're passionate about the work we do and we enjoy knowing that our efforts make a real difference in the lives of real people. If you want to be a part of something greater than yourself - and you look good in red - we might be just the place for you.
Blast Resistant Structures: STEEL VS. CONCRETE
Download Our Infographic
A realistic timeline for installing a blast resistant building